From the cars we drive to the shoes on our feet, the particular way that we like to have our hair cut or our unique home decor choices - us Brits love letting our personalities shine through everything we do. That's why it's no surprise that so many people want a personalised funeral that reflects who they were in life.
A recent survey on Funeral Planning by Mintel* showed that approximately 32% of adults aged 50+ would like a personalised funeral that reflects their life. Whether that's a traditional but highly personalised funeral or something whacky and unconventional it's a matter of personal choice. You can see our quick list of some alternative  funeral options that will be discussed:
Traditional and faith-based funerals
Humanist or civic funeral (or ceremony)
Celebration of life ceremony
Direct cremation
Eco-friendly funerals
Burial at sea
Themed funerals
Moving away from tradition
People are leaning towards less traditional funerals. As a result, there are more funeral planning options available than ever before. We're no longer limited to the bog-standard religious ceremony in a church and standard burial or cremation.
While you can always opt for a traditional funeral, it's nice to know what options are available to you if you fancy something a little bit different. Do you want your funeral to reflect your larger than life personality? Do you want everyone to wear your football team's colours? Want to be buried in a natural burial ground? Maybe you'd rather there's no fuss made at all. Whatever your funeral wishes are, we can assure you it's possible.
How are funerals are modernising?
Based on the British Seniors Funeral Report, we found that funerals in the UK are modernising in some surprising ways. Here are some interesting examples that highlight these changes: 
28% - Attendees not wearing black
25% - A humanist funeral (non-religious)
18% - Not singing hymns
18% - Personalised order of service
11% - Displaying any photos in a unique way
8% - A 'release' such as balloons, butterflies, dove etc
Some other popular ways include personalised caskets, live music performances, planting memorial trees, customised keep saes and so on.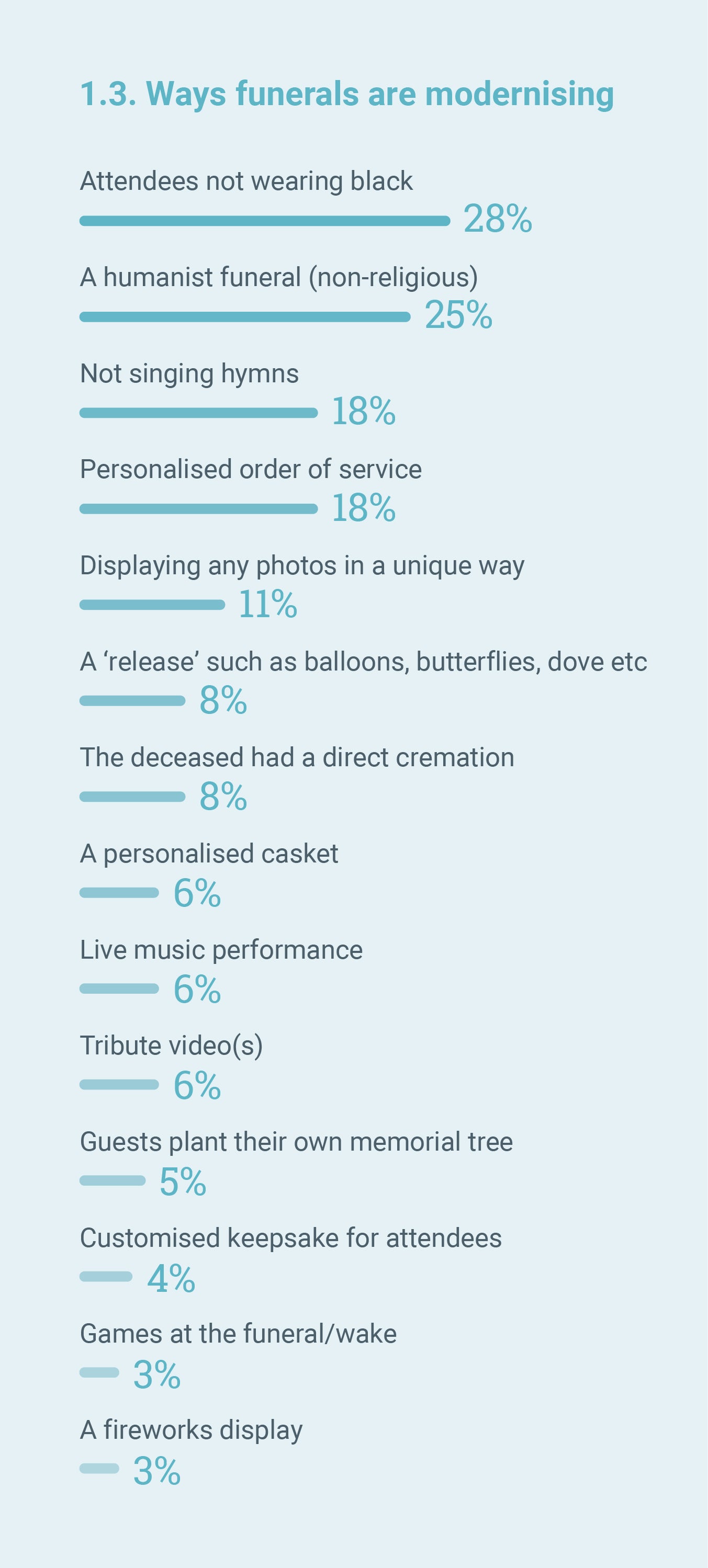 Alternative funerals: what are my options?
Let's start by looking at different kinds of funerals, shall we?
Traditional and faith-based funerals
We'll begin with a straightforward approach to funerals; traditional, faith-based ceremonies and burials. This is a common type of funeral in the UK. It is held in a place of worship by a religious official and includes readings. Hymns and eulogies are more often than not religious.
Christianity is the biggest religion in the UK, but millions of Brits are Hindu, Jewish, Sikh and Islamic. These days most funeral directors can accommodate a variety of religious needs when it comes to funeral planning.
If you want a traditional, but unique funeral you can always add some personal touches; a funeral can be personalised through the use of music, photographs, physical items, personalised eulogies, a dress code, flowers and so on.
Humanist or civic funeral (or ceremony)
There are a rapidly growing number of humanists and people with no religious affiliation in the UK. Because of this, humanist and civic funerals are becoming increasingly popular.
Since this kind of ceremony does not have to follow tradition, it can be arranged in a number of ways. You can still choose someone to lead the funeral, like a celebrant or officiant who specialises in non-religious funerals. A celebrant will usually talk about the life of the deceased while family members can contribute to the ceremony too. You can always skip this altogether and have those closest to you read eulogies or share fond memories.
This kind of funeral can take place in your own home, a hall, a venue or at the cremation or burial site. That's why it could be a great option for those who would prefer a more intimate affair with close family and friends only.
You can ask a funeral director to point you in the direction of a funeral celebrant or you can contact the British Humanist Association if you would like to organise it yourself. A funeral director can also help with the planning of the funeral like the arrangement of flowers, coffin, music, eulogies, pallbearers and so on.
Celebration of life ceremony
People are more frequently making a point of specifying their funeral wishes before they die.  A celebration of life funeral is popular with people who are taking their funeral planning into their own hands. It's also gaining traction with those who have no religious affiliations. But what does it entail?
Well, it's all about remembering the deceased and the good times you shared as opposed to mourning and grieving. These services tend to look back on fond memories with a happy perspective. This can put a positive spin on a sad day and make the grieving process a little bit easier.
Some common elements of a life celebration funeral include wearing colourful clothes instead of traditional black. Playing some favourite songs of the deceased, especially happy or upbeat music they enjoyed. Sometimes the body will not be present during the wake or ceremony.
Direct cremation
We all know someone who hates anyone making a fuss over them. There are also people who are less keen on funerals and simply don't want one. When this is the case, it can be handled in a number of ways, but it is commonly dealt with by way of direct cremation.
Direct cremation could also be ideal for those who can't justify spending ever-increasing fees on their funeral. As more people become aware of direct cremation, it's becoming a popular choice - particularly with the current state of funeral costs in the UK. Even music legend David Bowie was sent to direct cremation after his death in 2016. This method is slowly gaining traction as people move away from traditional approaches.
When choosing direct cremation, you'll either have no funeral at all or you can have a memorial service or a Wake without the body being displayed or present. Many people don't realise that this is an option but it's an affordable alternative to a traditional funeral.
Eco-friendly funerals
We're becoming more environmentally conscious by the day. If you're an avid recycler, dead set on reducing your carbon emissions or you try to live an environmentally friendly life - an eco-friendly funeral could be the right choice.
Green funerals are on the rise but how do you make your funeral kinder to mother nature?
Well, first of all, cremation is considered to be a major polluter, so you may want to avoid this if this is a concern of yours. A burial could be a better choice although burials can add another £1000 on average to your funeral bill in comparison to cremation according to the Money Advice Service.
You don't have to choose a traditional burial. These days, it's even possible to be turned into compost or to be buried in a 'mushroom suit' but there are of course less extravagant options available right here in the UK.
More people are choosing to be buried in natural burial sites in woodlands and meadows. There are sites scattered across the UK which you can find with the help of the Natural Death Centre. Since cemeteries are running out of space, the prices are higher so it could be a more affordable option to choose a natural burial ground.
You can also choose a biodegradable or cardboard coffin and burial shrouds with burial plots that have no visible impact on the earth.
Burial at sea
According to the BBC, 'Anyone can be buried at sea, so long as the person arranging it has a licence - available for £175 from the MMO - and complies with some environmental rules. Applicants must provide a certificate from a doctor that the body is clear of fever and infection, and the coroner may also need to be informed.'
There are rules like, the deceased cannot be embalmed and should be in the light, biodegradable clothing. You'll have to prove that the site is suitable for a burial at sea and provide exact coordinates. This includes proving that there is little risk of the body returning to shore as a result of currents or fishing nets. In case this happens, the body must have an identification tag attached. You'll also need a special watertight coffin that fits specific guidelines.
There are three designated burial sites in English coastal waters:
Newhaven in East Sussex
The Needles Spoil Ground near the Isle of Wight and Tynemouth
Tyne and Wear
There are businesses and organisations who will help you accomplish a burial at sea with ease.
Themed funerals
A themed funeral might include rainbow colours and happy themes, or it could be related to football team colours for example. It's not unheard of for people to have superhero funerals, race car themed funerals amongst other strange and unusual things. This could be achieved by using things such as costumes, music, unique hearse choices and alternative coffins.
How to make sure you get the send-off you want
Write funeral wishes into your will
We offer a FREE legal Will Kit worth £100 to all policyholders. The kit will help you to put together a free, legally sound will from the comfort of your own home. You can use your will to write in any specific funeral wishes you have as well as information on the allocation of your assets.
Speak to your family
It can be a difficult conversation, to say the least, but being direct with your family about your funeral wishes can help clear up confusion and make things less stressful for the ones you love.
Speak to a funeral director about making a funeral plan
You can always make arrangements with a funeral director. We offer a free £300 Funeral Benefit Option to Over 50 Life Cover policyholders. The extra £300 will contribute towards the cost of your funeral on top of your benefit amount. This will go to Golden Charter to which they can help you arrange the funeral you want in advance.
Financial preparation
You can fund your funeral yourself with savings, or you might expect your family to cover costs. But with an increase in debt as a result of extortionate funeral costs, this might not be possible. If you want a way to help contribute towards the cost of your funeral, you can take out an Over 50s Life Insurance policy with British Seniors. That way, you know that you have a plan in place to help protect your family.
As you can see, there are lots of alternative funeral options available to you and it's possible to have the send-off you deserve with some careful planning. Nobody wants to fear the potential costs of such a funeral which is why British Seniors is here to help with our over 50s Life Insurance. You're guaranteed to be accepted if you're a UK resident aged 50-80.
*Mintel Report on Funeral Planning, UK, October 2019
What to read next:
Avoid getting stuck with high premiums and a policy that doesn't suit your needs by finding out when the best time to get life insurance is for you.