Planning a funeral is one of the most distressing tasks we'll ever face, at a time when we're at our most vulnerable. In a recent government report on the funeral industry, a funeral director was quoted referring to funerals as the "ultimate distress purchase" made by "emotionally vulnerable clients under time pressure".
If you've ever lost someone close to you, you're probably aware that there's a sense of urgency when planning a funeral. Nobody wants to spend time on the phone to funeral directors comparing prices and looking up affordable options when they're grieving. This is the very reason why so many people make hasty decisions, taking the first deal they're offered for the sake of convenience. 
But we're here to tell you that there are ways of keeping funeral costs down and it sometimes simply comes down to two things:
Understanding the rising costs of a funeral
Preparing for the potential costs of a funeral
Funerals can be more expensive than we think
Before we get into how to reduce fees, let's address the question of how much a funeral actually costs: according to the British Seniors Funeral Report 2021, the average cost of a funeral is around £5,631. Discretionary elements like flowers, memorial cards and catering could potentially drive your bill up by a significant amount. The question is: could you or your family get together this amount of money on short notice?
It's an uncomfortable fact but the funeral business is booming sometimes at the expense of the average person. Low-income families are, particularly at risk. The Funeral Market Study, published in March 2020, showed that in the past 14 years, funeral costs in the UK have increased by 6% year on year. That's twice the rate of inflation. While cremation was a more affordable option for many, even crematoria fees have risen by about 6-8% annually. 
Understanding the costs of a funeral
Prices vary depending on a few factors; location, the cost of a burial plot and the level of competition among local funeral directors. The funeral director's fee can make up most of the cost. They take care of collecting, storing, preparing and delivering the body to the cemetery or crematorium. They take care of necessary forms and can supply things like a hearse, coffin and limousines. All of these things add extra costs to the final bill.
While there are unavoidable costs like the death certificate or the disposition of the body, savings can be made on the type of coffin, the type of service, flowers, transport and so on. The funeral director may offer a variety of services for set prices including a 'no-frills' package. Keep in mind that you're under no obligation to choose to embalm the body. It's up to you what you want to include or exclude.
By planning in advance, you can speak with different funeral directors, you can look into more affordable options like cheaper coffins, direct cremation or other alternative options. 
Preparing for funeral costs
Considering funeral costs are at an all-time high, it's surprising how few people are making plans in advance. Our 2021 British Seniors Funeral Report showed that nearly a third of respondents had nothing set aside for their funeral. Just 21% said that they had secured a life insurance policy to help with funeral costs. 
The report also shows that overall, loved ones are contributing an average of £1,963 towards funeral costs.
The fact is, a funeral could cost the same for someone on a very high yearly income vs someone on a very low income. In fact, for a low-income family, a funeral can cost as much as their entire yearly expenditures for food, clothing and energy combined. When we take funeral costs in relation to overall household income, it can sometimes cost ten times more for lower-income households than higher-income households. 
When we consider the fact that more than a quarter of UK households have no savings at all, it's no surprise that some people are forced to take out loans and credit cards to cover costs.
But what really makes up the cost of a funeral?
Our 2020 Funeral Report showed that 27% of respondents had no clue how much a funeral typically costs. Here's a breakdown of costs associated with a typical burial funeral taken from our 2020 Funeral Report: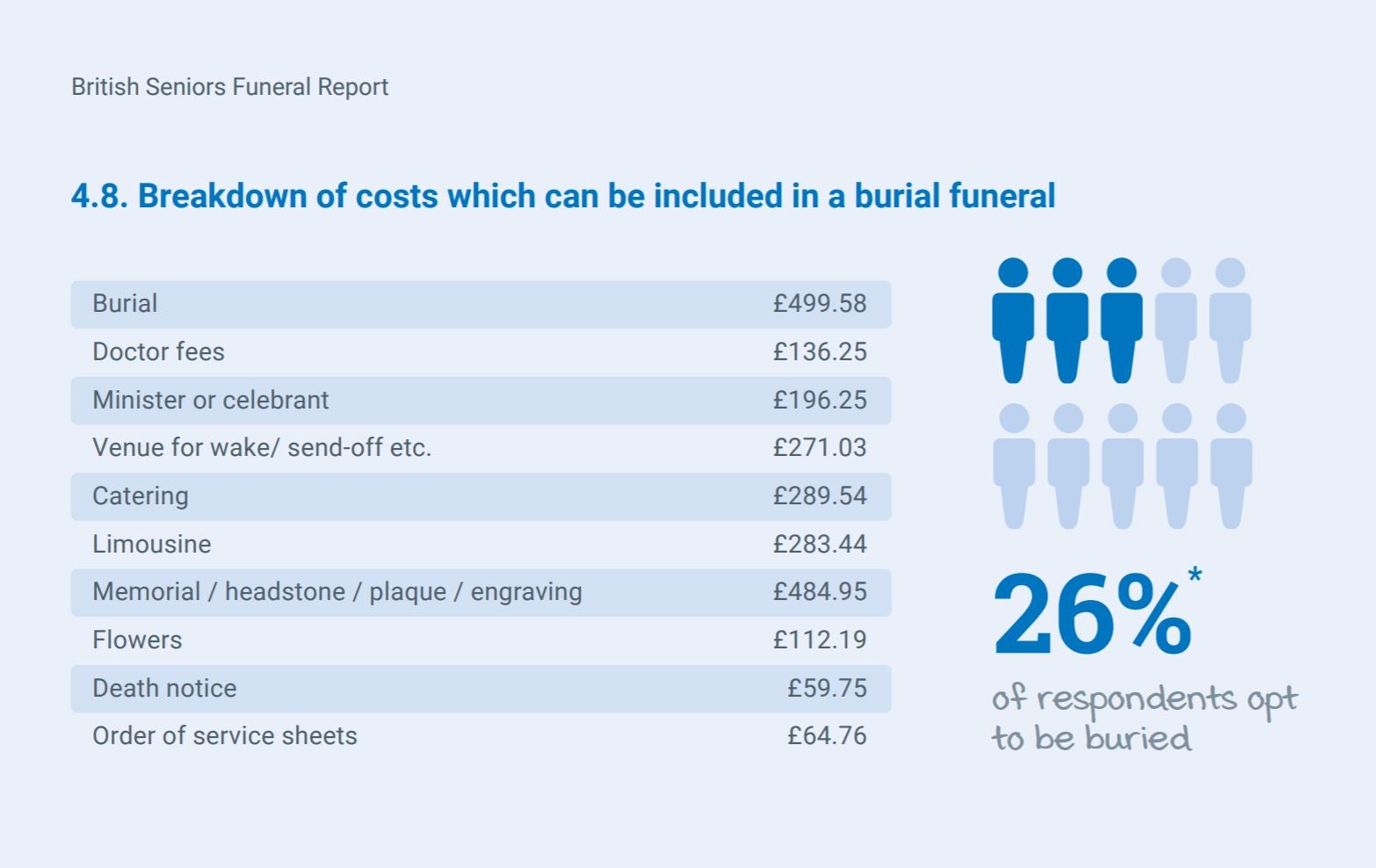 Life insurance could help keep funeral costs down
It's hard to predict how much your funeral will cost, especially when we consider inflation but with life insurance, you can leave some money behind to help out.
WIth British Seniors, you can choose a benefit amount and premiums that you can afford. We offer our customers flexibility with our Over 50 Life Insurance policy. You choose a benefit amount of £1,000- £10,000 depending on your age at the policy start date. You're guaranteed acceptance as long as you're a UK resident aged 50-80. Cover starts from as little as £4.32 per month for a 50-year-old non-smoker with a £1,000 benefit amount, and the earlier you start, the greater the maximum benefit available.
We also work with Golden Charter to offer our customers a free Funeral Benefit Option worth £300 which can be used to contribute towards your funeral costs. If you choose this optional benefit, your loved ones will receive £300 towards the cost of your funeral1. So, for example if your benefit amount is £8,000 and you choose to add the Funeral Benefit Option to your policy, you will have £8,300 in total towards the cost of your funeral.  
If you would like to help your loved ones cover the cost of your funeral, you can apply online today for British Seniors Guaranteed Life Insurance. Remember, acceptance is guaranteed so long as you're a UK resident aged 50-80.