Life is complicated enough at the best of times – but by the time we reach our 50s, we have to think about how our plans for the future can also affect those we leave behind. This can make planning even more stressful. In fact, the 2020 British Seniors Funeral Report showed that 26% of respondents said they felt stressed when thinking about the cost of their own or another person's funeral. 16% of respondents said they felt helpless and 15% said it made them feel frustrated or annoyed. 
Securing an Over 50 Life Insurance policy can replace some of that stress with peace of mind for you, and some financial security for your loved ones.
You've probably been through a lot over the years. And if all has gone to plan, you'll be reaping the rewards of years of hard work. But as we get older our needs change, which is why Life Insurance should be flexible. There are a lot of one-size-fits-all policies out there, but we all want something that caters to our individual needs.
That's why British Seniors offer a range of options on our life insurance policies. There are age limits in place when it comes to your maximum benefit, but you can request to make changes to your policy at any point if your circumstances change.
Who needs Life Insurance?
We believe that it's better to have a plan for the future and that a little planning, while you're alive, can make a significant difference to the wellbeing of your family when you're gone. Unless you have significant savings or assets available to your family immediately after your death, you should consider putting some protection in place with Life Insurance.
With an Over 50s Life Insurance policy, you can plan for the expenses your family will likely take on after your death, whether it's keeping up with bills or paying towards funeral costs.
There are some common financial milestones that we experience when we reach later life, but we all have different priorities. That's why we offer flexible cover with optional extras like our Funeral Benefit Option, Increasing Benefit Option and FREE Will Kit.
Our range of Life Cover at a glance
If you're a UK resident aged 50 to 80, you're eligible for cover. Our Over 50s Life Insurance ranges from £1,000 to £10,000 depending on your age. All you have to do is choose the benefit amount you require. The amount you pay in monthly premiums is determined by your chosen benefit amount, age and whether you're a smoker. The earlier you take out cover, the higher the maximum benefit you can secure. 
You're immediately covered for accidental death (and death by natural causes after a 12-month waiting period) and you can arrange your policy online or over the phone. It's a simple process and you won't have to take a medical examination to apply.
Accidental Death cover in more detail
If you were to die suddenly as a result of an accident or injury, there could be a serious financial impact on your family. With an Over 50s Life Insurance policy secured, there will be funds readily available to contribute towards outstanding bills or funeral costs.
That's why our Accidental Death Benefit pays out twice your benefit amount, giving you a potential maximum benefit of £20,000 - and remember, this is in place from the minute you set up your policy.
Choosing the right benefit amount
You can choose a benefit amount based on how much you want to pay each month, how much cover you want and what amount is available to you according to your age at the start of your policy. Bear in mind, smoking will also effect the cost of your monthly premiums.
Our benefit amounts are as follows:
£1,000 up to £10,000 (aged 50-69 at start date)
£1,000 up to £9,000 (aged 70-74 at start date)
£1,000 up to £6,000 (aged 75-80 at start date)
We want to help paint a picture of what the different benefit amounts could potentially do for you and your loved ones. We've broken the benefit amounts down into small, medium, and large to help you gain a better understanding of what the money could be used for.
Smaller benefit (£1,000 - £6,000)
If you're aged 75-80, the maximum benefit you can secure is £6,000. This should be enough to contribute towards your funeral bill or in some cases, cover it entirely. This will depend on your personal circumstances and your chosen benefit amount.
Medium benefit (£1,000 - £9,000)
This maximum benefit you can secure if you're aged 70-74 is £9,000. That's enough to potentially cover funeral costs with a little bit leftover. Since the average cremation or burial costs around £3,782*, there may be enough left over to leave your family a small amount towards outstanding bills or possibly a cash gift.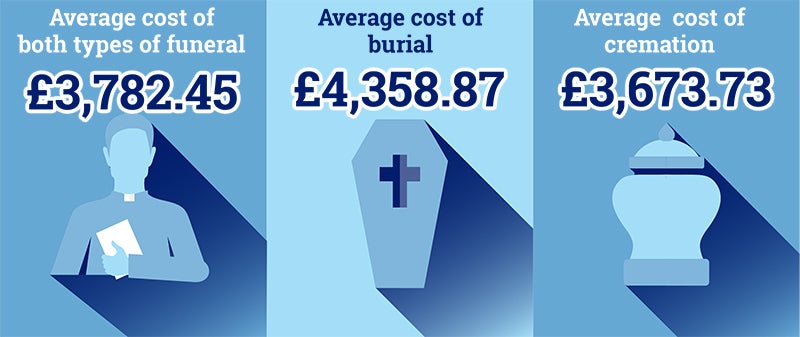 Larger benefit (£1,000 - £10,000)
Those aged 50 to 69 can secure the largest maximum benefit amount. This is up to £10,000 which could be enough to make a large contribution towards your funeral bill. You could also leave this money to your significant other or your family to cover outstanding bills. How about a small nest egg for your grandchildren? There's a little more wiggle room with a larger benefit amount, what it's used for is entirely up to you.
*2020 British Seniors Funeral Report