Considering death is something we all face at one point or another - whether it's the loss of a loved one or coming to terms with our own passing - it can be difficult to think about. But when we avoid thinking about death, it can prevent us from making practical plans for our funeral - which can, in turn, leave our loved ones confused, stressed and out of pocket when the time comes.
Since we as a nation are becoming more aware of the cost of a funeral due to recent media attention and in some cases personal experiences, we want to find out just how prepared us Brits are when it comes to funerals.
Our 2020 Funeral Report showed that just 4 in 10 respondents think that people are becoming more comfortable with the conversation*. Generally, our feelings towards death have been anxious and fearful but these days we appear to be comfortable talking about it. It's important for us to acknowledge that our loved ones will eventually have to take care of our funeral. Then, we can do what we can to make things that bit easier for them. Despite the fact that funeral costs can be a significant financial burden to some, more than 22 million** people in the UK have no life insurance or money set aside for their funeral. It seems that despite rising funeral costs (about 5% over the past 5 years), we're seemingly unprepared in many cases. What's worse is there are many things to consider when planning a funeral that you might not be aware of.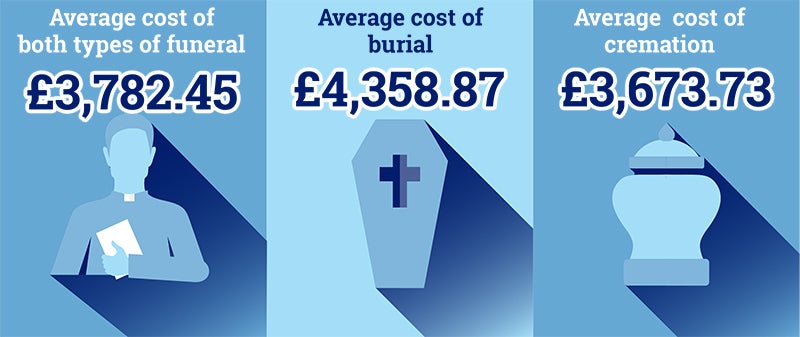 Understanding funeral costs
It's no wonder so many people can be clueless about the reality of funeral costs. It's only in the past few years that issues around rising funeral costs and a lack of transparency about pricing have come to light in the media. This has prompted organisations like the CMA (Competitions & Markets Authority), to begin investigating the problem. Understanding the cost of a funeral can help you to plan and more importantly, know where you can cut costs.
The average cost of a funeral in the UK now stands at £3,782.45 (the average cost over the last five years) according to our Funeral Report. If you believe your family could cover this cost at short notice then that's all well and good. But if you think pulling this kind of money out of thin air might be a challenge for your loved ones, then maybe it's time to consider putting a financial plan in place to help protect them.
What kind of financial protection do people have in place?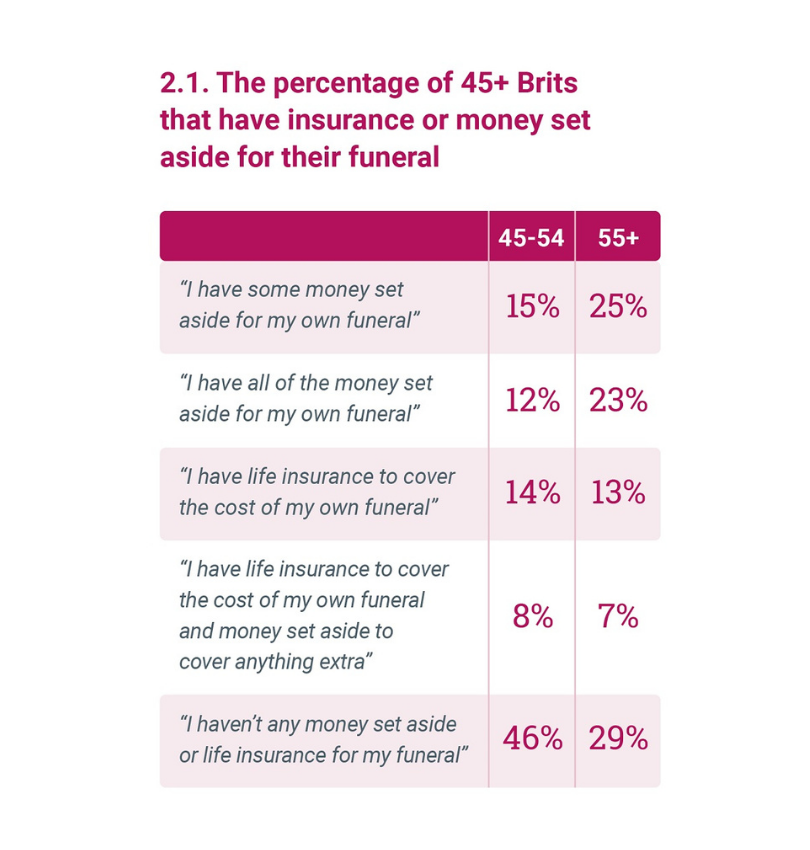 How prepared are we when it comes to funerals?
Considering the cost of a funeral could reach up to £5,000 depending on the choices we make, it seems that many people are still unprepared. 27% of respondents said they're unsure of how much a funeral costs, while 69% of respondents say funerals are more expensive than they were five years ago.**
When it comes to reasons why people say that they have not yet put money away for their funeral, the top reasons include; 
It's unaffordable
Because they don't give it a second thought
Because they don't have any dependencies 
Because they're unsure of how much they need. 
Considering you could secure a policy with British Seniors for as little as £4.32 a month depending on your age***, it may be a shock to find out that just 13% of those aged 55+ have any life cover in place**. This could mean that your loved ones are left vulnerable due to a potentially hefty funeral fee. Life insurance can help contribute to the cost of your funeral, giving your family a helping hand when it's needed most.
How can I better prepare for my funeral?
If you would rather take some of the financial burden away from your family, then you could consider over 50s life insurance. Once you secure a policy with British Seniors, by paying just a few pounds a month, your loved ones are guaranteed a lump sum payment when you die. It's easy to secure life cover with British Seniors online or over the phone. Our over 50s life insurance is guaranteed for any UK resident aged 50-80.
*ONS UK adult population of 52 million x 0.41 (41% of Brits) 
**British Seniors Funeral Report 2020
***"For a 50-year-old non-smoker with £1,000 of cover.